It is Thursday and I am participating in
Carin's
Shoot Me challenge. Today is your chance to post a photo of yourself alone or with someone. Too often, I am not in any photos because I am the one taking the photo.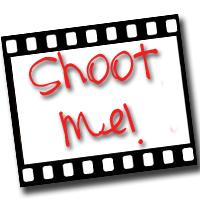 Sitting at the computer a few weeks ago after work catching up on e-mails. Cara took this photo because I was so EXCITED about the grade she received on her Science test. Cara and I studied for 2-3 weeks for this test. I had heard from other parents how hard this test was going to be and we studied hard. We used flashcards, computer games, old worksheets, etc to study for the test. The test was on plants, seeds, the parts of a flower, etc. I wish I could have taken the test. Cara scored a 103% on the test. She missed two questions, but there were a few bonus questions that she got right therefore her grade was over a 100%. When she told me her grade at school, I let out a scream and gave her a BIG hug right in the school commons area. Other students standing around stared at us, but I didn't care because I was so excited!!!.
Take care,
Michelle
P.S. Today Cara has a Social Studies test over the New England states. I wish I could take the test for her. I was drilling information into her head last night and this morning. I hope she does well. If you hear a faint scream, it is me because she scored well.