Today I didn't have to work because all the teachers had to attend an archdiocese conference in Omaha. Therefore, the kids and I spend the morning at my parents' house. The kids played and picked pumpkins while I completed a project that has been sitting in my closet unfinished for months. I finally completed new slipcover pillows for the couch. I am not a sewer by any means, but this sewing project was so easy plus my Mom helped me.
I have been slipping on posting and participating in
Carin's
Shoot Me challenge, but I am back blogging. Today is your chance to post a photo of yourself alone or with someone. Too often, I am not in any photos because I am the one taking the photo.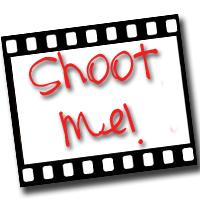 The first step of the project was to cut out a square of fabric that was one inch larger than your filler pillow. My filler pillow was 16 x 16 so the front square of fabric was 17 x 17. Then my Mom cut out two pieces of fabric 12 x 17 for the back panel.
Then I hemmed the overlapping back pieces with a 1/4 inch seam. Then I sewed the front and back panels together, snipped the corners, and put the filler pillows into the slip covers.