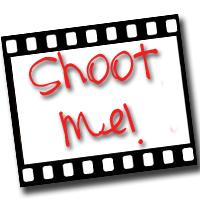 It's Thursday again and time for my photo for the Shoot Me challenge sponsored by Carin over at Forever in Blue Jeans. It is your chance to step out from behind the camera and post a photo with you in it.

This photo was taken last summer at my high school class reunion. My best friend, Kris, and I are standing in the front row on the far right. This is not the best picture, but it goes with my quote of the day from my 365 Stress-Free Moments for Women calendar that I look at every day.
Today's quote was "There are some friends you know you will have for the rest of your life. You're welded together by love, trust, respect, loss - or simple embarrassment." *** "Friends come and friends go, but a true friend sticks by you like family." Proverbs 18:24.
When I read this quote this morning, I instantly thought of Kris. She will always be my best friend. We don't see each other often or talk often, but we each know to just call if we need something. Kris lives in southeastern Missouri and I live in northeastern Nebraska - so, there are many miles between us. But miles don't take away friendship.
Take care,
Michelle